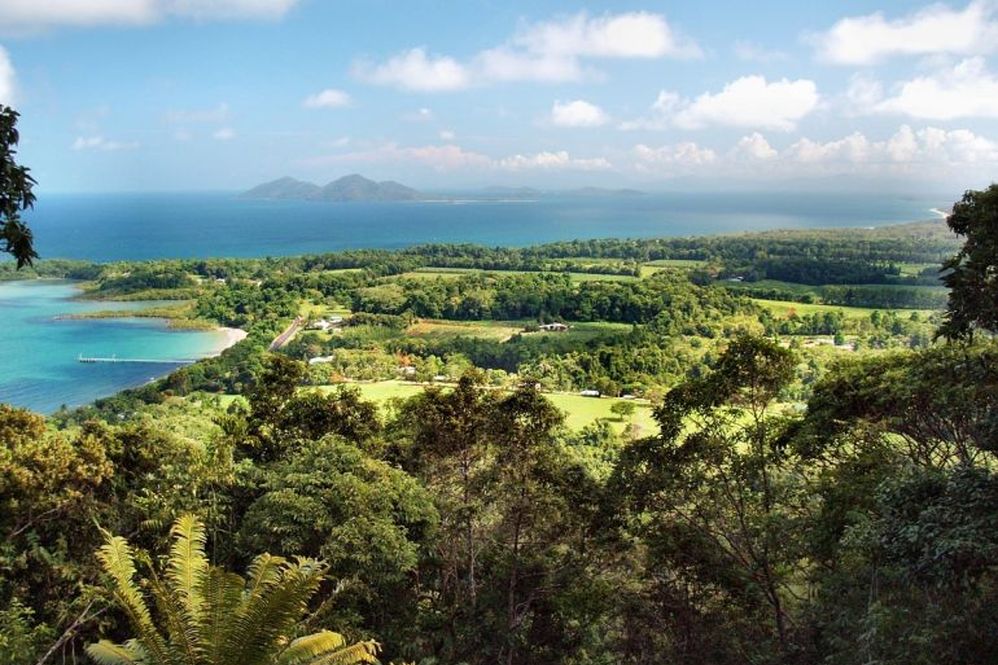 Local Walking Tracks - Bicton Hill Walk
BICTON HILL WALK
4 KM - 1 -2 HOUR WALK

Bicton Hill Walk is 4.5 km north of of Mission Beach Village on the Bingil Bay Road.

This four kilometer circuit track up Bicton Hill at Bingil Bay is in the Clump Mountain National Park, and has unsurpassed views and an enormous variety of rare rainforest plants and animal life, one of which is the unusual nesting site of the buff-breasted paradise-kingfisher - They nest in termite mounds here in summer.

Between October and March, watch the evening spectacle of migratory pied imperial-pigeons returning to the islands after foraging for food on the mainland.

Sturdy plants on the eastern side such as brush box and swamp mahogany are able to withstand the high winds and occasional cyclone. On the western side the vegetation changes. Look for strangler figs, Alexander palms and cycads.

One of the famous animals on the hill are the Lace monitors, who have the unusual habit of depositing their eggs in termite nests in trees. The constant temperature inside the nests helps incubate the eggs. Bicton Hill is also home to marsupials such as the nocturnal striped possum.

The walk has easy gradients accessible to all areas, with seating at each of the four lookout points. Access to this track is via the carpark - picnic area at Bingil Bay. On completing the walk you may like to swim from one of the deserted beaches across the road (Alexander Drive), or walk along the Drive to the north and at the corner of Bingil Bay Road and Cutten Street are toilet facilities.
---
Contact Us for Further Information
Please contact us for further information about this tour, we are happy to answer any questions you may have, or help you fit this tour into your North Queensland travel itinerary. To book this tour, send us your details through our bookings facility.
---