Mission Beach Accommodation
Browse accomodation types:
Accommodation in Mission Beach, Australia
Mission Beach is a series of casual beachfront townships, stretching across a fourteen kilometre shoreline which outperforms northern Cairns beachfront localities in magnificence, relaxation and beauty. Bays and secluded stretches of private beach are easy to find in this area, and you would be forgiven for thinking you'd found Xanadu.
The accommodation in the Mission Beach area takes advantage of the gorgeous beach and lush rainforest which envelops the town, and tend to bring the environment into the property. Houses are luxurious, retreats are relaxing and the apartments spacious... with a view for which most would pay millions for in the metropolitan regions of Australia.
We have attempted to break down our accommodation types into a number of special collections, each with their own feel, type and price range, as described below.
Most holiday homes in Mission Beach live up to their name, including all the modern conveniences you'd be used to at home, but taking out the hassle of your hustle bustle lifestyle. Holiday houses in Mission Beach generally accommodate between 3 – 8 people, making them ideal for travelling families, or groups of adults who get along well, and wish to pool their accommodation monies. While many homes have a minimum length of stay (we want you to kick back and really enjoy yourself!) some are available overnight for those whom are unfortunate enough to only be able to experience our glorious vacation destination for a short time. Holiday houses, homes and retreats are generally available between $150 – $500 per night, depending upon location, size and the number of people you require accommodation for.
Please browse our selection of Mission Beach Holiday Homes, and please ask us any questions you might have about any of the properties you see listed here on our website. A number of our more exclusive holiday retreats also happen to be absolute beach accommodation.
A little exclusive beach hut... and room with a view? Does this sound like your type of holiday accommodation? In Mission Beach, we've got just the thing! Our apartments have all the splendour and brilliance of a Tahiti island getaway! Except, we're cheaper of course. Perfect for an intimate couple, or partners travelling on a budget, amongst our selection of apartments and villas are self-contained and self-catering accommodation, studio rooms, condominiums, bungalows, balinese-style huts, the list goes on. If you're looking for accommodation between $50 – $200 per night, with all the magnificence of a beach side locale, a villa or apartment is likely to be your style.
Please browse our selection of Mission Beach Villas & Apartment accommodation, and feel free to send us a chatty email if you have any questions.
Wake up to the sun rising over a calm azure blue ocean, and the gentle sounds of the waves crashing upon the soft, smooth sand. Absolute beachfront accommodation have these luxuries as your back door... or front yard. A piece of private beach, secluded bathing and an overwhelming sense of tranquility and luxury is associated with absolute beachfront accommodation. Because properties of this nature are both exclusive and rare, they tend to be in the upper end of the prices for accommodation in Mission Beach.
For a soothing, romantic and luxurious getaway, browse our selection of absolute beachfront accommodation in Mission Beach. If you have any questions about the properties listed, please contact us.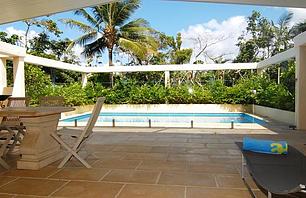 For our pure prestigious accommodation, the type reserved for celebrities and movie stars, this is the accommodation section for you! These accommodation properties are likely to occupy the most gorgeous of beachfront locations, have the softest king-sized beds, largest fluffy towels (and robes!), be fitted with European gourmet appliances, and contain fine furniture. Many of our luxury accommodation listings are also absolute beachfront.
Browse these opulent properties through our Luxury Accommodation section. Let us know if you have any questions, or special requests which we can fulfil for you.
We want to make your Mission Beach holiday special and memorable. If there is anything at all we can do, please ask.